3-2-1 Formula (15 sachets)
The formula 3-2-1 allows better recovery thanks to the synergy of 3 elements: glutamine, taurine and magnesium.
New formula with vitamin B6


Neutral taste: no artificial flavourings or additives


Good solubility in cold water


Developed and controlled in Switzerland
indispensable l'essayer c'est l'adopter
Il y a maintenant près d'un an que je prends ce produit il a fait son effet très vite et continue de me permettre une grande aisance lorsque je suis en rupture, je sens bien que je ne peux plus m'en passer. la différence dans la sensation du lever est très différente. grâce au 321 je suis bien claire et réveillée le matin, je n'ai pas mal partout, pas besoin de me dérouiller pour commencer la journée bref! tout va bien merci pour cette belle invention Michèle Montpellier
Très bon produit
La fatigue ce fait moins ressentir lors de mes efforts quotidien ou au travail.
Sommeil
Ce produit n'a pas été efficace sur moi.
J'ai un sommeil très agité, je dors 3 à 4 heures par nuits depuis plusieurs années, je me réveille plusieurs fois dans la nuit.
Merci
Je dors mieux
Beaucoup d'anxiété et de peine pour m'endormir. Actuellement, après quelques jours de 3-2-1, je dors mieux et plus profondément.
No dyes

Gluten Free

Lactose Free

Yeast Free
Want to know
more?
3-2-1 Formula combines :
3g of glutamine, an amino acid precursor of GABA (gamma- aminobutyric acid): an inhibitory neurotransmitter, as if it were a natural anxiolytic produced by the brain.
2g of magnesium, which contributes to a reduction of fatigue and to normal muscle function and a healthy nervous system.
1g of taurine, an amino acid naturally present in the body which influences the heart and muscle functions and reinforces the effect of glutamine (and therefore of GABA)
Without artificial flavourings
The formula 3-2-1 is a very fine white powder to be diluted in a small quantity of water. Being very pure, it allows optimal assimilation by the body, and also good solubility in cold water. It has a neutral taste and does not contain any artificial flavourings or additives.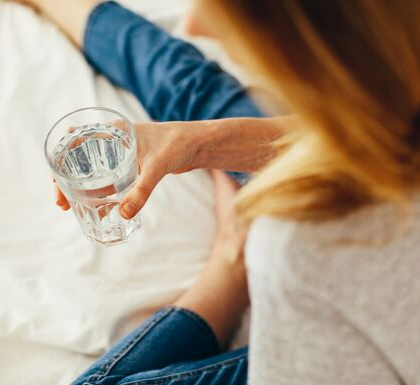 Taurine – A stimulant ?
Taurine often has a bad reputation due to mistaken beliefs conveyed by brands of energy drinks. This amino acid is reputed to be a stimulant but it is not the case. It is naturally present in the human body and plays a role in heart and muscle functions, particularly by reinforcing cardiac contractility. It easily crosses the blood-brain barrier and also reinforces the effect of glutamine and therefore GABA.
GABA by nutrition
Food plays a major role in the production of GABA. Its precursor is glutamine (wholemeal cereals, wholemeal rice, potatoes, wholemeal wheat, lentils, bananas, dry fruits and nuts, oleaginous products, citrus fruits), which is even better assimilated in the presence of foodstuffs rich in vitamin B6 (tuna, salmon, cod, banana, potato, chicken, wholemeal rice, lentils, avocado).